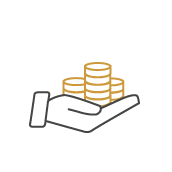 Or, to put it simply: An unsecured loan
At a glance
A personal unsecured loan of up to NIS 150,000 at variable interest rates, for up to ten years (120 months).
Who is this appropriate for?
For clients of any bank in Israel

For those seeking a loan with convenient terms, for any purpose

For those wishing to choose the loan amount: you can get any amount from a few thousand shekels, up to NIS 150 thousand - it's easy, convenient and flexible

For those wishing to determine the loan's duration: get the money you need immediately - and repay it over one, five or up to ten years, whichever is most convenient for you
Simple and easy: No collateral is required
Fast processing: The money will be paid into your account shortly after the loan is approved
Attractive and convenient: Use the money for any purpose
This does not constitute an offer to provide credit. Any extension of credit is subject to bank approval, based on the bank terms and policies in effect at that time. Failure to comply with loan repayment may result in interest on arrears and repossession procedures.
Contact
us
Please fill in your details and we will contact you shortly*