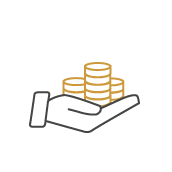 Or, in simple terms: a quick all-purpose loan for clients who have a fixed-term deposit or savings account with Bank of Jerusalem
​
A loan secured by a lien on a fixed-term deposit account or savings account for a period of up to 120 months.
Bank of Jerusalem also offers a balloon loan, which has the benefit of requiring no monthly payments for a pre-defined period. In this case, the loan principal and interest are not paid off on a monthly basis throughout the loan period, but instead accumulate up to the end of this defined period, when both principal and interest are repaid in a single installment. This final payment can be made using funds from the fixed-term deposit account. 
Who can benefit from a cash-secured loan?
Clients who have a fixed-term deposit or savings account with Bank of Jerusalem.

Those who prefer to avoid having to make an early withdrawal from their fixed-term deposit account in order to make a purchase.

People who want to choose the loan's duration: you get the money you need immediately – and can then repay it over one, two, or even up to five years, whichever suits you best.

Clients seeking to preserve their fixed-term deposit accounts rather than start over from scratch.
What are the advantages of a cash-secured loan?
Simple & easy: your fixed-term deposit / savings account serves as the sole collateral for the loan – there is no need for any additional security.

Lucrative & convenient: you benefit from a loan at an especially low and attractive interest rate.
Quick turnaround: the funds will be paid into your account within three days of the loan being approved.
Please note that interest due on loans is always greater than the interest accrued by fixed-term deposit accounts. The above information refers to fixed-term deposit / savings accounts which are free to serve as collateral. This does not constitute an offer to provide credit. All credit granted is subject to bank approval, based on the bank terms and policies in effect at that time. Failure to comply with loan repayment may result in interest on arrears and repossession proceedings..
Contact
us
Please fill in your details and we will contact you shortly*