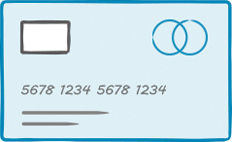 ​Don't like to walk around with cash, but want to pay for every purchase immediately? The immediate debit card was designed precisely for this purpose.
You don't need to keep cash, checks or credit cards in your wallet anymore, because with the Bank of Jerusalem immediate debit card you will always have control over your expenses.​
Card options
Transactions of up to NIS 5,000 per single transaction, and up to NIS 10,000 of cumulative transactions per day*
Perform operations and get information using the Bank's automated devices
The customer's bank account is charged immediately after purchase
Cash withdrawal of up to NIS 5,000 a day*
Increased daily cash withdrawal – one-time increase of the withdrawal amount up to NIS 10,000 that can be withdrawn until 24:00 on the day of the increase (subject to the current balance on the checking account)**
The card is international, which allows you to carry out transactions in Israel and abroad
Card limits
Transactions cannot include payments, standing orders or direct debits
The card cannot be used in transactions in the following industries: car rental, hotels, airlines, travel agencies, money changers and gas stations
The card has no credit line
​Conditional on available balance on the customer's checking account in the Bank (including the available credit limit in the checking account, as approved). The use fee of the debit card is in accordance with the Bank's terms and the terms of the checking account according to the price list.​
**The increase of the withdrawal amount is subject to the discretion of the Bank.
Contact
us
Please fill in your details and we will contact you shortly*