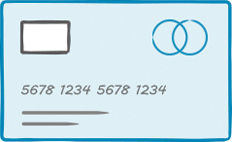 Need to view your account balance? Deposit a check? Withdraw cash? You can do all this and more with Bank of Jerusalem ATM card
​If you have an account at the Bank of Jerusalem you can request an ATM card, which lets you perform various transactions and receive account information at ATMs in bank branches and other locations nationwide. The ATM card is not a credit card and has no associated credit line. It is valid for 10 years. If your ATM card is lost or stolen, notify the Bank of Jerusalem immediately so that the card can be canceled and replaced by a new one, with a new PIN.
Who is eligible for an ATM card?
A Bank of Jerusalem account holder or authorized account signatory, who is at least 18 years old and a resident of Israel. One ATM card will be issued per customer. In the case of joint accounts, an ATM card will be issued for each account holder.
What can you do with an ATM card?
Checking account holders at the Bank of Jerusalem can perform the following operations:
Cash withdrawals – up to NIS 2500 a day, cumulatively (subject to the balance in the account)
Balance inquiry
Cash deposits* – up to NIS 10,000 a day
Check deposits* (shekels only, not available for post-dated checks)
Statement including the last 5 account transactions*
Receive an Internet access password*
Increased daily withdrawal limit – a one-time increase in the permitted withdrawal amount, up to NIS 10,000, that can be withdrawn until 24:00 (midnight) on the day the limit was raised (subject to the withdrawable balance in the account).**
These operations can be carried out only via the banking terminals located at the branch.
**Any increase in the withdrawal limit is subject to the bank's discretion.
Contact
us
Please fill in your details and we will contact you shortly*